September 19, 2013
'Never Too Late' is in another film festival!
This coming Saturday, September 21, 'Never Too Late' will screen at the Christian Life International Film Festival in Ontario, Canada. None of the cast or crew will be heading over for this one, but we are extremely proud to have been accepted as an official selection into another film festival!
We have entered a few more, and will be entering several more over the coming 12 months too! So with any luck, we'll get 'big-screen' exposure in other parts of the world too.
- Aaron.
September 10, 2013
Photos from the Perth Premiere...
Coming Soon.
September 5, 2013
Our Perth Premiere...
While we missed out on receiving any awards at the 168 Film Festival - 'Never Too Late' was received very well! Jack & I both made some fantastic contacts & look forward to the next project, and more festivals to come!
And now it's Perth's turn to see our film! Tomorrow, the cast & crew, along with friends & anyone else who wants to join us, will see 'Never Too Late' on the big screen at the FTI Cinema in Fremantle.
Can't wait to share the film with everyone!
- Aaron.
August 6, 2013
We made it!
I should have posted this a little while ago, but things have been extremely busy. Anyway, we made it into the Top 22 finalists for the 168 Film Festival & Awards! Not only that, but Jack Jovcic has been nominated for Best Supporting Actor and Laura Collier has been nominated for Best Supporting Actress!!
The festival begins on Thursday, and and the early hours of tomorrow morning, Jack & I fly out to LA for the world premiere. We will screen on Saturday, ahead of the awards ceremony on Saturday night.
Hollywood, here we come! Wish us luck!
- Aaron
June 1, 2013
Never Too Late is finished & submitted!
After a hectic 2 and a half weeks, 'Never Too Late' has been completed & successfully submitted into the 168 Film Project. On May 14, we received our verse assignment, which was Exodus 32:31. From there began the writing & official pre-production phase of the film. On May 25, we rolled cameras & wrapped the following evening. Post production went relatively smoothly (well there were a couple of technical issues, but we got around them quick enough!), and we made the deadline with 18 minutes to spare. Phew!!
Now comes the nervous wait as the judging panel reviews more than 150 entries. Fingers crossed we get selected for the festival in August!!
April 30, 2013
Meet Our Amazing Crew!
We are blessed to have a fantastic crew involved in our 168 Film Project. Everyone brings a great deal of experience & expertise to the film, that we're sure will bring about a great result. We are still on the lookout for a sound recordist though - so if you know anyone who works in this field & would be interested in being involved, put them in touch with us!
In no particular order, here is our crew:
Michael Jepson - Associate Producer
Dion Borrett - Cinematographer IMDB page
Gary Centrone - Assistant Director IMDB page
Bruce Kentish - Lighting & Grip Assistant IMDB Page
Brett Turnbull - Lighting & Grip Assistant
James Mahoney - Camera Assistant / Editing Assistant
Peter Burton - Steadicam Operator
Dave Biesse - Set Design / Still Photographer
Janelle Kamp - Set Design / Still Photographer
Peter Liddicoat - Production Assistant
Steve Burlinson - Production Assistant / Assistant Colourist
Andrew Clarke - Music Composer IMDB Page
Wendi Graham - Sound Designer IMDB Page
TBA - Sound Recordist
Writer / Producer / Director - Aaron Kamp IMDB Page
What a team! Bring on production!
April 11, 2013
Andrew Clarke joins the team!
We are excited to announce that Andrew Clarke has joined our 168 Film as the Music Composer. Andrew Clarke is an award-winning composer from Perth, Western Australia. Andrew is currently studying at the West Australian Academy of Performing Arts (WAAPA) majoring in classical composing and due to finish in 2013.
He originally composed for a rock band before a love of film scores directed his compositional interest to orchestral music in 2008. He has been making a name for himself as a composer that can deliver a professional, finished product in a short period of time. "This sounds like a really interesting project, should be a pretty intense week. I'm able to write well under pressure and I like the challenge of such a situation, although I try not to put myself through that too often" says Andrew.
Director, Aaron Kamp, is pleased to have Andrew on board, "Every film needs a musical score to add that professional, finishing touch. To have Andrew come on board is fantastic, as he can deliver that perfectly timed score that brings a film to life."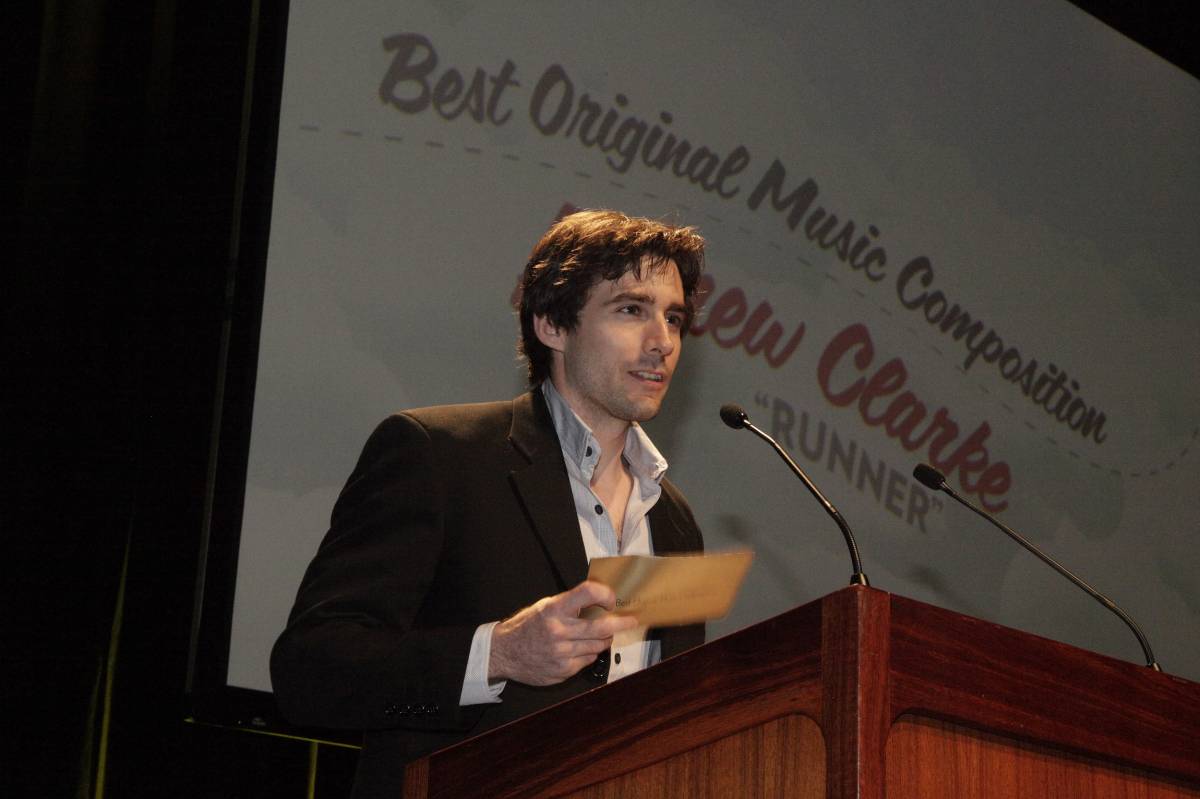 Classically trained with a background in rock/heavy metal and also with some jazz influences means Andrew can write in many styles with varying ensemble sizes. His versatile style of composing can suit many different projects, from romantic underscoring to epic action and plenty of styles in-between. Almost every note of his scores are recorded with professional virtual instruments and recording software that cuts out the time needed to rehearse and record live musicians.
PRESS RELEASE: April 5, 2013
Wanneroo Filmmaker Sets Sights on Hollywood… and $1 million!
Now entering its 11th year, the 168 Film Project is now offering up, together with Echolight Studios, a $1 million Feature Film Budget to the winner. And one local resident has his sights set on the prize.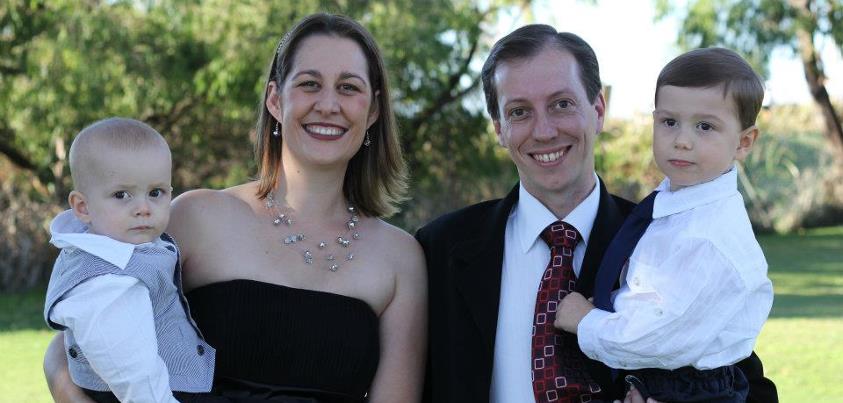 Aaron, pictured with his wife, Janelle & 2 boys.
Filmmaker, Aaron Kamp, is the first Australian to enter the Hollywood based speed filmmaking competition and in the process will be directing his first short film. The father of two already runs a successful wedding & corporate video production company, Everafter Productions, which is based in Wanneroo. And last year, Aaron was the joint winner of the National Australian Video Producer's Association Award for Best Music Video, for his cinematography in a clip for local band, XtortYa.
"I've worked in the film production industry for a number of years now, but I'm always in the camera department. This will be the first film that I produce & direct" says Aaron. "It will be quite a challenge, but one that I'm looking forward to and excited about!
In the 168 contest filmmakers are challenged to communicate the message of a randomly selected Bible Verse onscreen, with just 168 hours for production and post. Entrants receive free entry to the 168 Film Festival, a possible L.A. screening and a chance at over $1 Million in cash and prizes. "Best" Awards are given in over 20 categories including Best Film, Director, Actor & Actress.
Up to 500 films are expected to come from locations worldwide.
"I am very excited to see "168" filmmakers lauded by these awards! This is a great leap for the producers of the short films in our contest and it proves the effectiveness of our model," said 168 Founder and Director John David Ware. "Many of our producers and directors are currently moving up to making feature-length films, and this is a great encouragement for them to continue to excel."
Ware continued, "This is the largest film production competition prize I know of! And no, the challenge is not just for 'religious filmmakers.' Secular artists brave enough to try this, will work from the best-selling book of all time. It's one of the hardest challenges you will ever face, and some things you can't learn any other way."
From the moment they receive their Bible verse, filmmakers get 10 days for writing and pre-production and then exactly 168 hours to shoot and edit a 10-minute film. Entrants are responsible for all arrangements regarding their team and budget.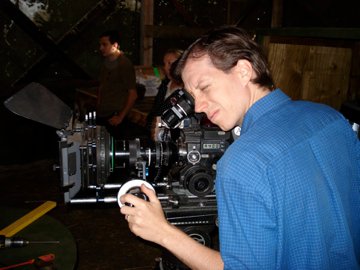 Aaron on location for the
short film, 'The Eleventh Soldier'
"The prize is a great incentive, but my main goal is to produce a quality short film that I can enter into many festivals throughout the world. And getting selected for the 168 film festival screening in Hollywood – that would be fantastic!" says Aaron.
The 168 Film Project will be held in May, with the festival taking place in Hollywood in August.